Chinese pedal caps became the very first upgrade of my car. The price of the original parts was scaring me at that time, Audi dealership wanted €175 for the set. Today I bought them for half. I decided to change the Chinese caps to the original ones, as the replicas began to rust after three years.
There is very little difference between them: the original caps use softer rubber, but the Chinese footrest is also rubberized, while the original is entirely made of plastic. The stainless steel of the originals has a slightly yellowish tint and a smoother surface.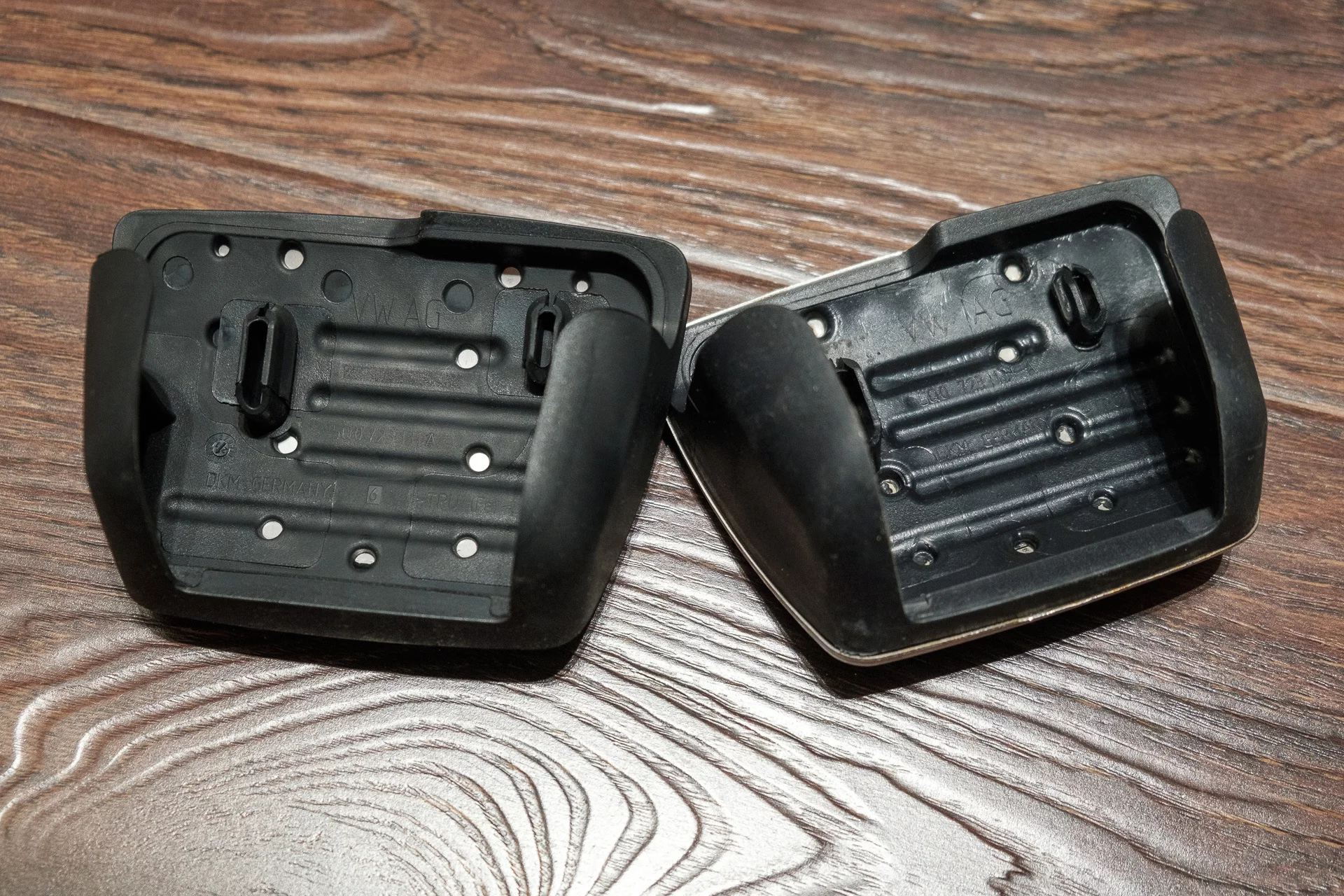 On the back side, Chinese caps have much more flash from casting. They also copied an old footrest model – the latest one with the "A" letter could be distinguished by a pattern of ribs on the base.
Stainless steel caps are available as accessory kit for each VAG brand as an option code PR-VF1. Partnumber of the Audi kit (A3, Q2, TT cars) of 3 pcs. – 8V1 064 205 A, of 2 pcs. – 8V1 064 205; set of Skoda caps — 5E1 064 205 with separate footrest 5E1 064 209; set of 2 pcs. for Volkswagen – 5G1 064 205.
There is an interesting nuance with pricing – all kits and bags with "local" partnumbers have overlays with embossed "common" 5Q0 / 5Q1 numbers of the MQB platform. Kits are also significantly more expensive (+30%), than the piece by piece prices.
Latest (they have been updated several times) partnumbers for all VAG brands:
5Q1 721 647 A — acceleration pedal (30€)
5Q0 723 131 A — brake pedal (21€)
5Q1 864 551 A — footrest (24€)
All MLB-Evo cars use the common footrest 8W1 864 777 B (aka 4M1 864 777 B four times expensive) with round cap 4M1 864 137 and screw M6X22 N 10700201.
I hope I helped someone save money 🙄. I will get rid of another Chinese crap in the next post.
Stay tuned…