It will be another rather long story. I've spent about a year on this retrofit. Several russian guys have been doing this for a long time, but no one was willing to help me, and they even banned me. So, this post was initially written in English to respect the European community, which was helping a lot. Jille daChillout, all the kudos to you! 🎉
SoundAktor / Sound Actuator is a system producing artifical engine sound with an electric magnet mounted in the lower center of the windshield. Basically, the magnet is just the back of any speaker, and in this case, it vibrates and creates waves and sound by the whole glass. Don't confuse this with an Audi Active Exhaust system, which uses speakers connected to the tailpipes and produces a fairly loud sound mimicking the roar of a V8. The control units of both systems are almost identical and are manufactured by the same company (more on this below). In VAG terms actuator is shortened to "SAK", and the active exhaust is "AGA".
I didn't want to change my simple and fairly quiet diesel exhaust, so installing SAK seemed like a good idea to me. It adds drive to the interior of the car, but the sound remains inside, with no harm to others.
Hardware
You need a speaker and a control unit, which has a bunch of part numbers. There are two types of enclosures: with mounting brackets and without. Audi units snap into the plastic clips and do not require brackets, but you can buy any unit and just cut them off. Firmwares are all the same and interchangeable. Any … 907 159 unit will be fine.
I've bought the original 8V0 907 159 blосk from 🟥 S3 car (but reflashed it ~100 times), and the driver / speaker 4H0 907 601 D used in all and every car.
Most VAGs require a special mounting bracket, but Audis have everything prepared right under the hood. The repair manual recommends removing the plenum chamber cover under the wipers (and the wipers themselves), but I've managed to crawl my hands under it without removal. It was pretty tough to bolt the speaker but achievable.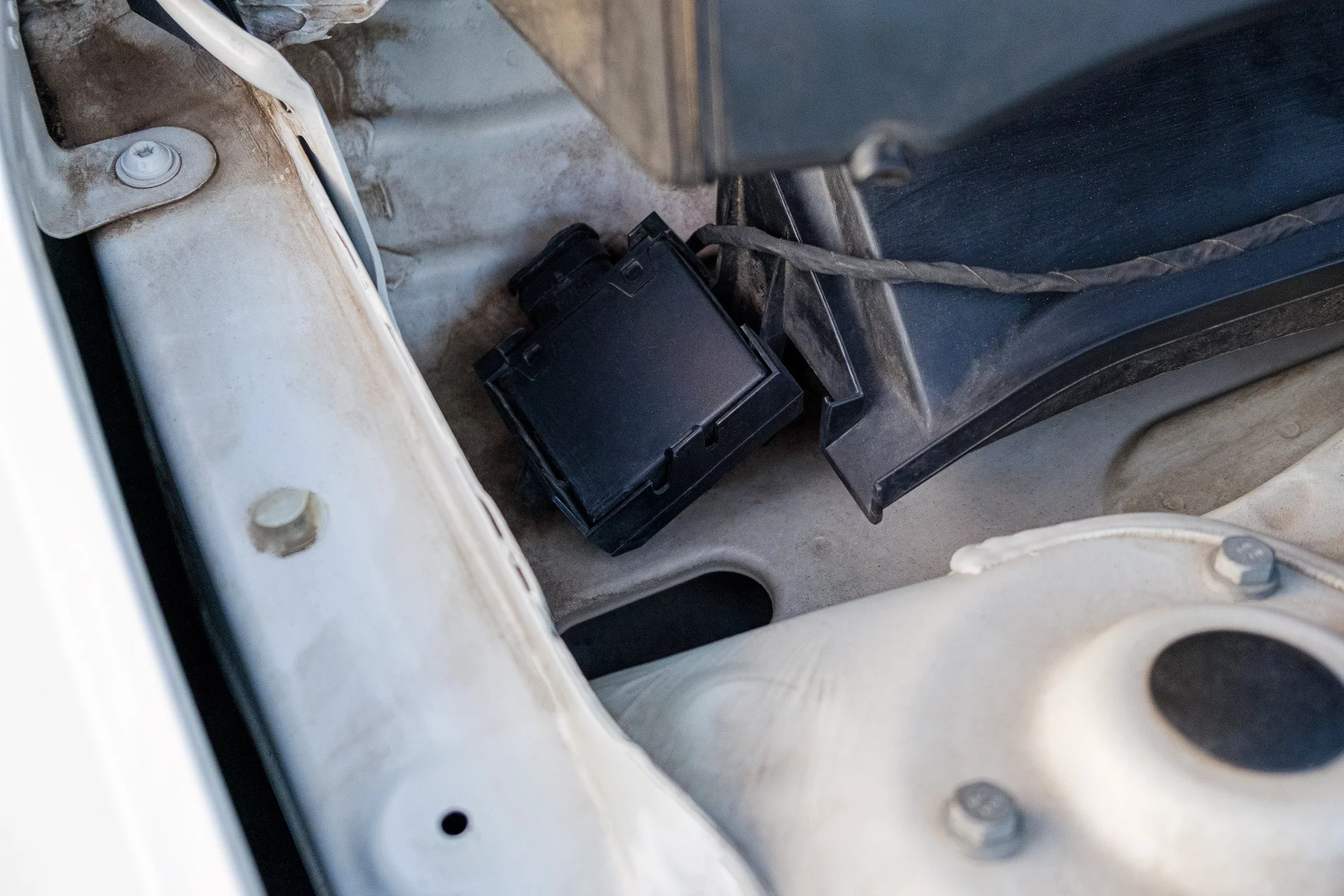 Wiring
I made the wiring myself, nothing difficult about it, ~2 meters length. Wrapped everything to TESA heat-resistant fabric insulating tape, same as I used for car alarm. Unit runs to powertrain CAN-Bus 6/16 pins and Kl.15 powerline in Fuse 34.
Connectors required:
4F0 973 706 ― 6-pin for the block
4H0 973 702 A ― 2-pin for the speaker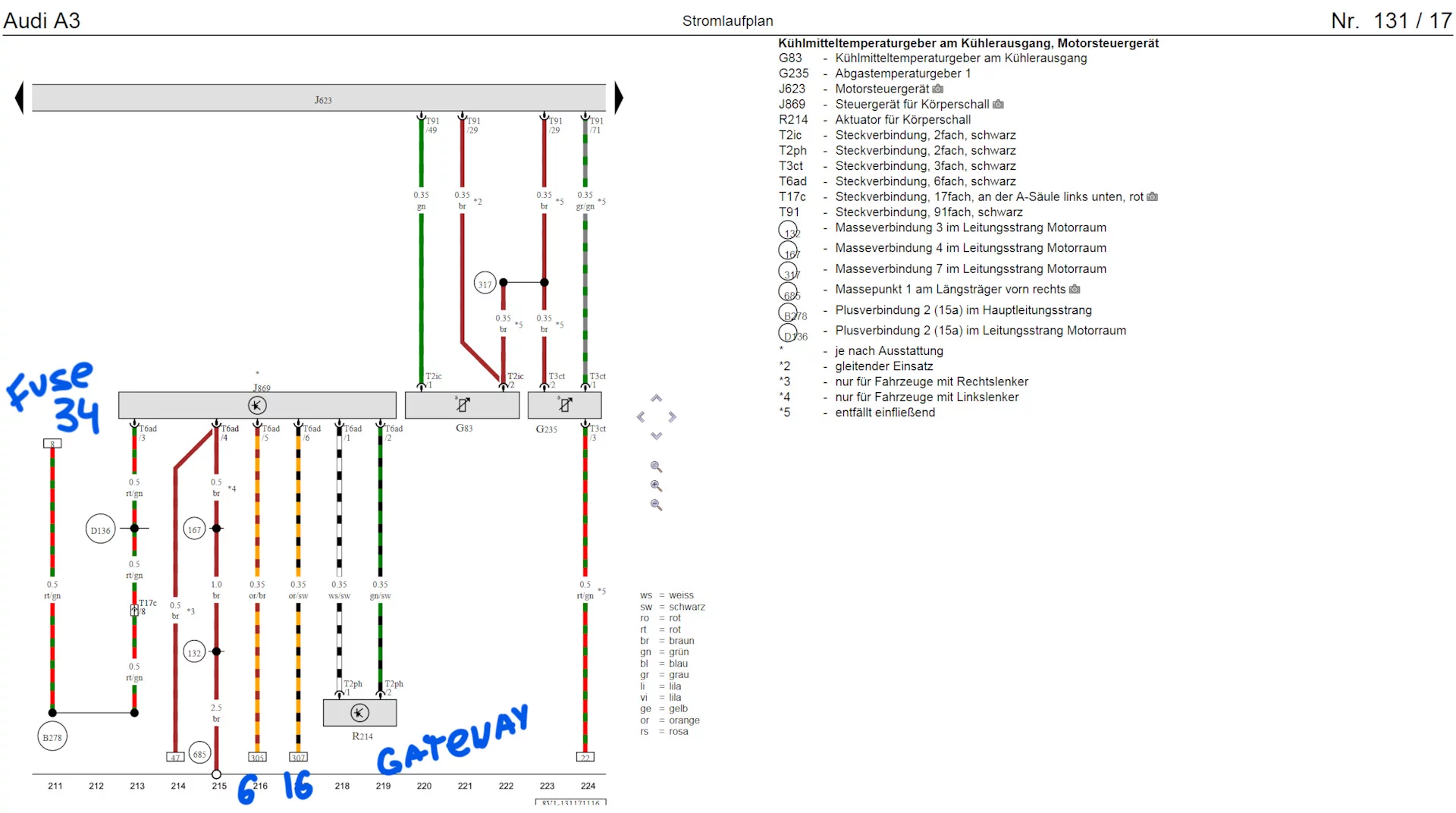 Software
It is the most interesting and annoying part. Original actuator firmware only works for a small number of specific engines for each model, firing the error "U10D900 Incorrect vehicle type" for others. The issue is known for years and requires firmware modification to bypass this check. I've spent dozens of nights and drank packs of RedBull investigating them all (publically available are ~30 FWs from Skoda / VW / Seat / Audi / Lambo). Packing, repacking, disassembling, searching for the patterns… This was my first time trying to do such a thing, the learning curve was tough. Thanks to daChillout one more time for the tips and tools provided. He finally brought me a working example.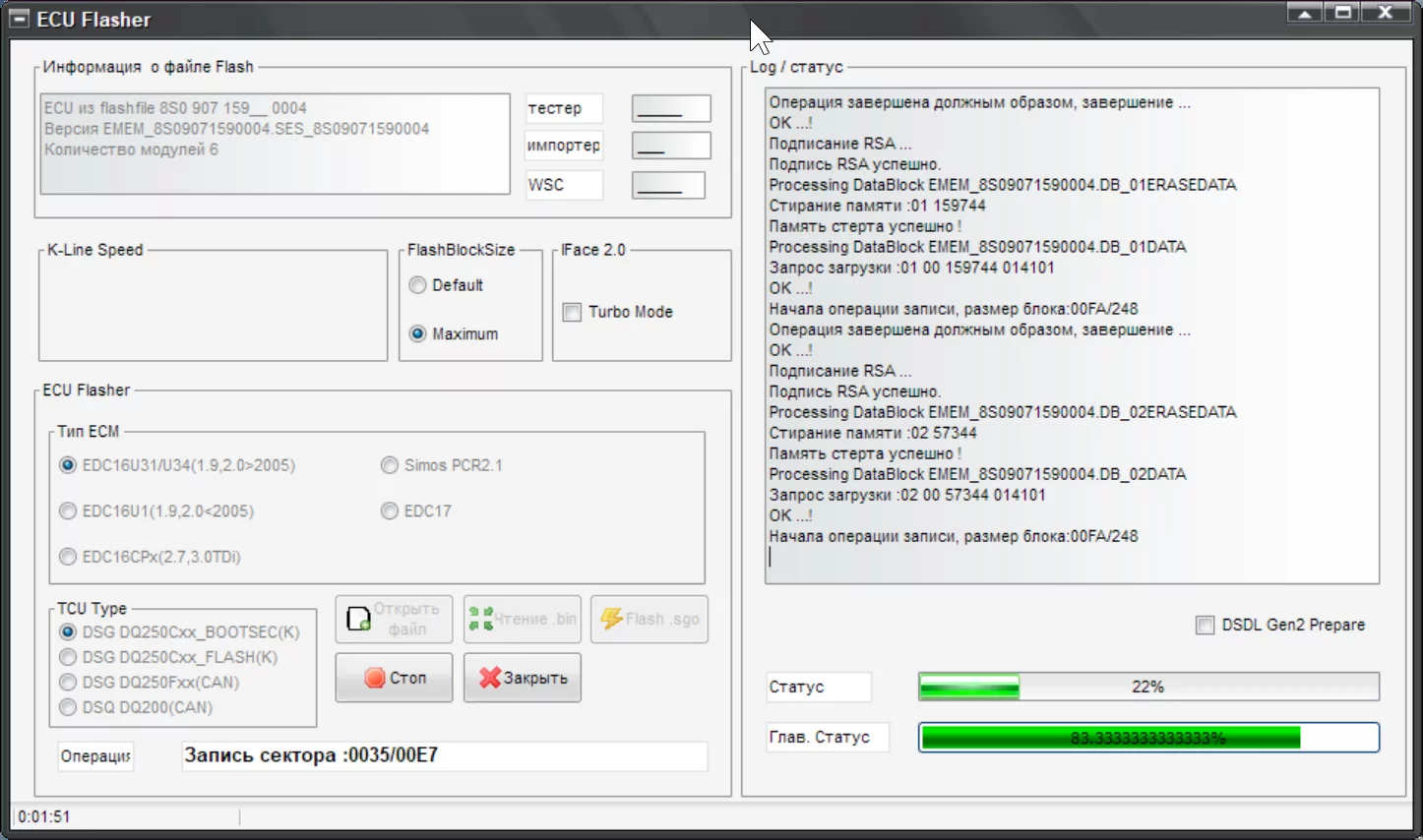 After successful flashing, you will be able to play the test UFO sound (which, BTW shows the rather unexpected capabilities of the actuator).
One of the prerequisites of the SAK system is Drive Select (FPA / driving profiles). Having a newer 3Q0 gateway enables profile modification using custom datasets (researched and described by Jille here), but I'm stuck with an older 5Q0 gateway so using its original data. Some actuator firmware allows switching only between On / Off states.
Coding
It is pretty straightforward:
― Add A9 - Struct. Bourne Sound to the Gateway's installation list
― Activate Byte 11 Bit 5: FPA_Function_SAK in its coding to enable control in the "Individual" profile
Further Investigations
Do you remember I mentioned Audi Active Exhaust systems? The control module for all of them is made by the same KUHNKE company and differs only in one digit in the part number, for ex: 4G0 907 159 A vs 4G0 907 160 B. Pinouts are the same and the firmware is almost identical, same size and structure, similar data blосks. Component names are similar too: SAS-GEN 2 vs SAS-GEN 2 AGA. Even those guys who tried to retrofit it to unsupported cars got the same error message 😏. The only exception is that third-party modules from Kufatek exist in the wild and fix this error at the hardware level + provide more options for tweaking the roar. So, the same way of firmware modification could potentially lead to enabling AGA systems natively on any car or … simply power the exhaust speaker by windshield SAK unit.
An example of such a system installed on a friend's car.
My next step will be to buy the original Eberspächer "stew pot" speaker or … make it myself.
Stay tuned…
PS: Walls got the punch! Watch an example of music played by the small driver of SAK systems: