One local store was selling hundreds of them at one moment, and I got mine for a decent price. The wheel itself has ~10 modifications and was factory installed on TT and R8 cars. It also appeared for the very first time on the Audi A3 concept in 2012. There are leather, carbon, and Alcantara finishes; big/small shifting paddles; 2 or 4 additional buttons between the spokes. Price range is 550€ - 1000€.
The wheel is so much better. It completely changes the interior and driving experience as a whole. I simply can't say there is any better factory-built solution for any brand or car. Spoiler: take a look to Rimac Nevera cabin 😉.
Features
The steering wheel is made for the Virtual Cockpit. Without it, you will lose the ability to switch modes of the onboard computer. You can fix this by adding a third-party module to bind any actions to any buttons (demo on 33 second): View ⇒ Menu, ] .. [ ⇒ comfort turn indicators. I decided not to bother and wait for VC retrofit. The right side of the buttons works just as before. There are two more prev/next track buttons, and the * button could be used for new action (Drive Select).
Stalks
After installing the new steering wheel, I did not like the look of the old stalks. TT cars (and FL A3) use a new design with thin levers moved closer to the wheel. I also plan to retrofit ACC and ALA assistants, so I bought the maximum stalks with 8V0 953 521 LR part number. Connectors are all the same, nothing to change here.
The rear wiper control on the right lever is more convenient. Its clicking wheel goes through the lever and can be accessed from both sides.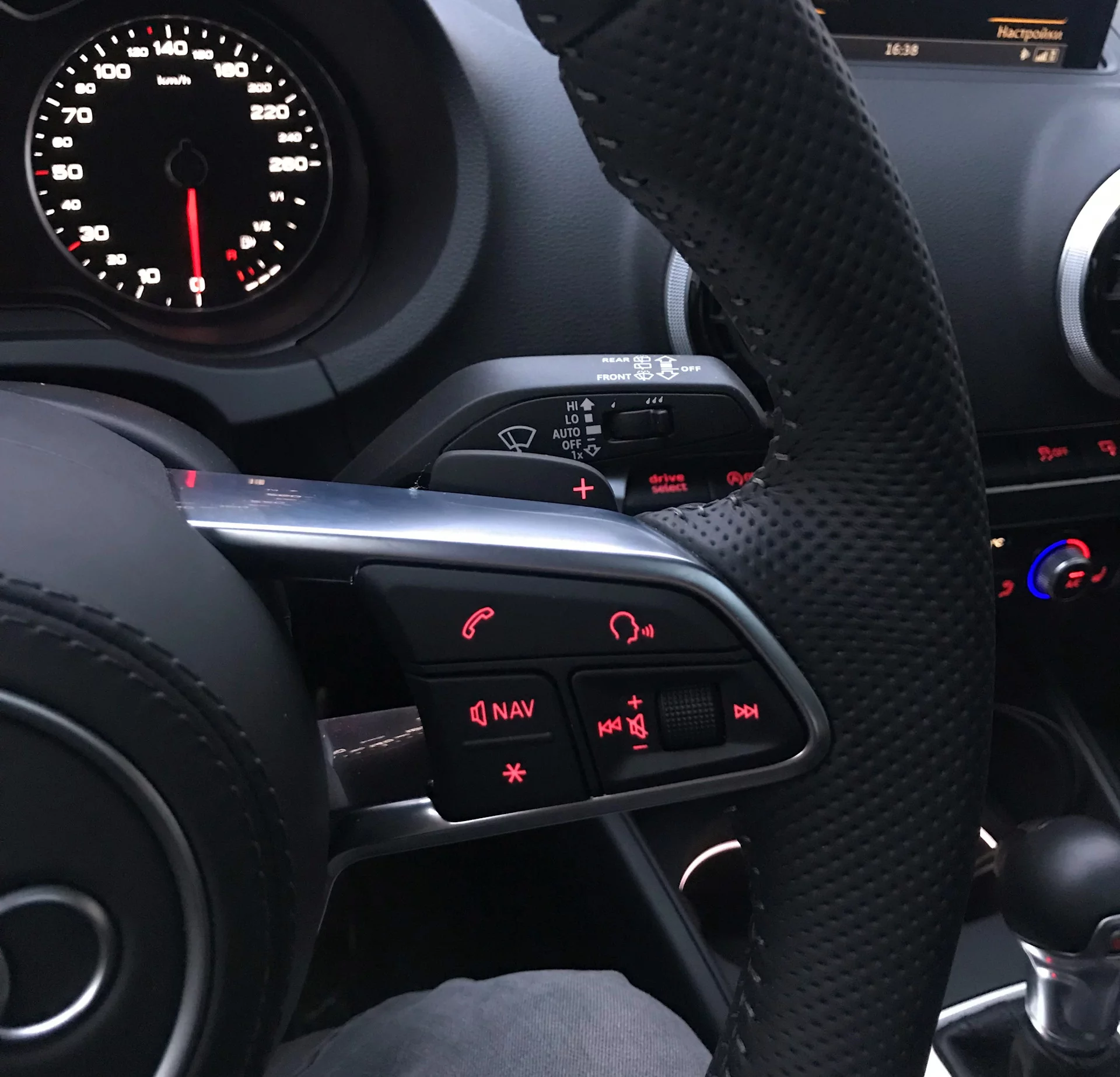 PS: It is much harder to remove the safety bag from the new steering wheel. The holes are ~5mm and you need to rotate a flat screwdriver on all sides to hook brackets inside. (20 degrees up-right, something like that).